New Luxury Complex Budva – Three-sided penthouse As10, 261,93 m2, with sea view
Details
The location, smart facilities and superb space design provide a new experience of enjoying life and meet the standards of even the most demanding hedonists.
Apartment AS10
Type: Penthouse
Floor: 2/3
Total floors: 3
Area: 261 m2
Distance from the sea: 700 m
Sea view: Yes
Bedrooms: 3
Bathrooms: 2
Condition: New construction
Parking: Yes
Pool: jacuzzi
The apartment is oriented on three sides, with a total area of 125.44 m² plus 12.96 m² of roof space and 123.53 m² of roof terrace, which together makes the total area of the penthouse of 261.93 m².
An exceptional view of the sea is offered from the terraces, the living room, the sauna and one of the bedrooms. The other two bedrooms are oriented towards the slope behind the building. The apartment has two bathrooms and a shower cabin on the roof.
The roof terrace is above the apartment and is connected by a staircase that leads to the sauna and the roof entrance/exit. The large roof terrace features a jacuzzi, an open-air kitchen, a pergola-covered relaxation area, a sunbathing area and stunning views of the sea and the old town of Budva.
Apartment consists of:
Entrance: 2.43 m2
Toilet and laundry room: 3.06 m2
Kitchen: 8.20 m2
Living Room: 35.00 m2
Bedroom: 17.28 m2
Terrace: 22.70 m2
Hallway: 2.33 m2
Bathroom: 3.25 m2
Bedroom: 9.43 m2
Bedroom – Master: 15.40 m2
Bathroom – Master: 5.11 m2
Price: 850.000 euro
Apartment: 125,44 m2
Roof top room: 12,96 m2
Roof top terrace: 123,53 m2
Total area: 261,93 m2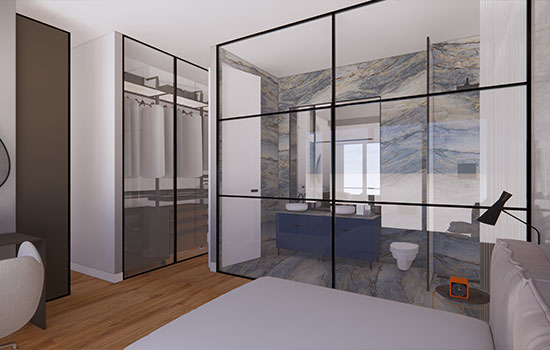 About the complex:
This complex is a residential "nest", a haven where every resident and visitor will find their peace and satisfaction. The entire complex is subordinated to daily rest, "charged batteries" and enjoyment for both residents and guests of the complex. From apartment terraces, large roof terraces with jacuzzis and saunas, through swimming pools and bars to garden winter and summer terraces, the entire complex invites you to enjoy the open space and coastal air.
Apartments with a modern design and a functional layout that emphasizes enjoyment in the living room, as well as huge terraces with a fantastic view of the panorama of Budva, the sea and the surrounding mountains.
The apartments meet all European standards, a smart "smart-home" system, the latest temperature regulation system using air conditioners, heaters in the bathrooms, underfloor heating… The apartments are equipped with a fire alarm, security system, equipped kitchen and bathrooms.
BENEFITS OF THE COMPLEX
Great location
Parking
1-3 bedrooms
1-3 bathrooms
Laundry
Gym
FOUR GROUPS WITH 10 TYPES OF APARTMENTS
Two-room apartments (1 bedroom)
Three-room apartments (2 bedrooms)
Four-room apartments (3 bedrooms)
Penthouse