Victoria Residence – Two bedroom Penthouse 803, 200 m2 – with Jacuzzi Pool and Sea View
Victoria Residence - Two bedroom Penthouse 803, 200 m2 - with Jacuzzi Pool and Sea View
Details
Property in Montenegro
Victoria Residence – Penthouse 803, height of 8th floor, 200 m2 (105m2 + 95 m2 terrace), apartment consist of one spacious living room with dining area and kitchen, two bedrooms, two bathrooms and huge terrace with a sea view. Victoria Residence, in the city center, close to the supermarkets, restaurants, cafes, bars, and shopping centers. Beach only 100 meters away from the facility.
The price: 540.000 e
The price of the apartment includes a complete interior decoration & furnitures.
It consists of:
Entrance hall
Living room with dining area
Kitchen
2 Bathrooms
2 Bedrooms
Large terrace
Living area: 105 m2
Surface terrace: 95 m2
Total area: 200 m2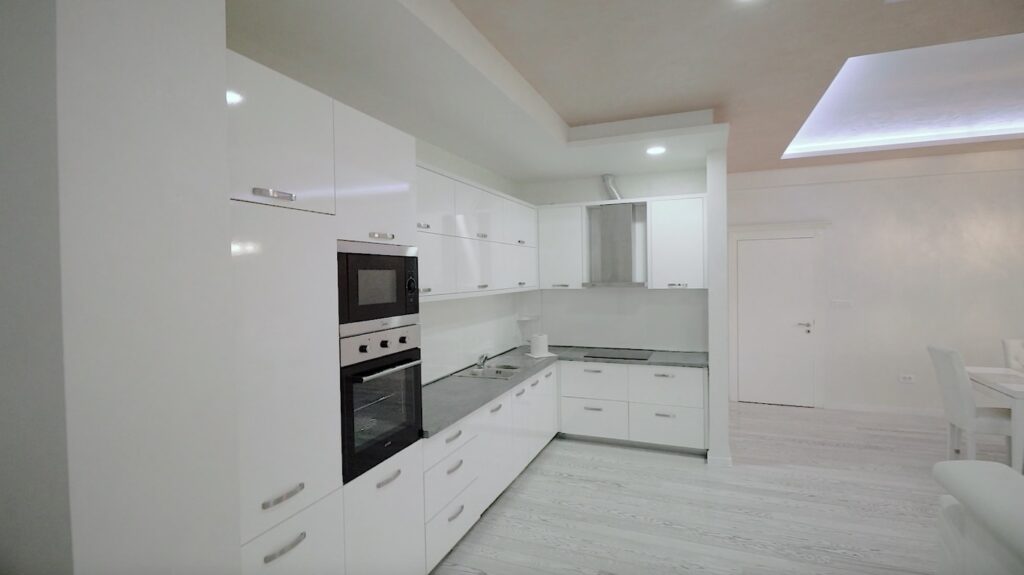 Property type: Residential object
Area: 105 m2 + 95 m2 terrace m2
Year built: 2016
Number of floor: 10
Location: Second line to the sea, city center.
View: Sea and the St. Nikola island, town panorama
Disposition and facilities: balcony, garage, landscaped design, private entrance, terrace.
Equipment: Internet, air conditioning, cable TV, ventilations, "smart home".
Location:
The Victoria Residence is located in the city center, next to the shopping complex TQ Plaza. Close to the supermarkets and shops, cafes , restaurants, beach, Old town and all major city establishments.
The windows overlooks at the sea and the St. Nikola island!
Building consist of 10 residential floors within which the hotel operates.All apartments are rented under the hotel brand.
Return on investment of 10% annually!
Apartments have excellent investment potential and are able to go for rent all year: During the summer season: 200-350 euro/per day and during winter: from 170 euro/per day.
Possibility of buying a parking space!
Property Features:
Object area: 5660 m2
Land area: 937 m2
Property Type: Residential building
Storeys: G + P + 9
Based on the Object area: 445 m2
Building Index: 3.74
Number of apartments: 71
Rooms:
Suspended ceilings
Lighting
Wallpaper
Oak parquet 1st class
Bathroom:
Villeroy & Boch
Marble
Granite brand "Travertine"
Mosaic tiles of Venetian glass firm "Valentino"
Heated floors
Facade:
Thermo and hydro isolation with modern waterproof decorative (mineral) color.
Alu-bond, structural facade!
Construction:
Monolithic reinforced concrete carcass, exterior walls – brick, are material.
Electrical wiring and fitting is set inside of concrete walls to them pouring concrete.
Water supply and sanitation: first class eco tubes of polypropylene
The whole building is protected by hydro insulation
Frame:
Monolithic longitudinal and transverse load-bearing walls, columns and disk monolithic concrete floors.
External coating:
Ventilation facades of granite with Rockwool insulation Layd Buts
Windows:
Aliminium 3-ply, stop-sol glass with 3 cylinders! 30 years guaranty!
Terraces:
Aluminum frames with glass and stained glass photo gray movable wooden shutters
Enterier:
Suspended ceilings and LED Lighting
Engineering systems:
Fire protection system to protect access to protected Internet and telephone line, cable TV
Internal electrical installations with electrical shield, telephone, television, internet, video surveillance.
2 Elevators: 8 person, 630 kg
Property in Montenegro – prices – Sale
Montenegro apartments for sale – buy apartment in Budva
Property in Montenegro – prices – Rent
Buy villa in Montenegro
FAQ
Can I buy house in Montenegro?
– Yes, we will quickly and efficiently help you buy house in Montenegro.
Can I buy villa in Montenegro by the sea?
– Yes, we will quickly and efficiently help you buy villa in Montenegro by the sea.
Do I need to be in Montenegro to buy real estate?
– If you cannot come to Montenegro, you can send us a power of attorney issued to a representative and have it notarized.
In this case, we will be able to resolve legal issues when you are not in Montenegro.
For more information about this option, please contact us: +382-68-132995
Am I eligible for a residence permit?
– Certainly. You can get a residence permit for a year and renew it every year. A house in Montenegro gives the right to a residence permit.
I'm a foreigner. What is the procedure for buying a house/villa?
– Your nationality doesn't matter. You will need a passport. Accompanied by an interpreter, you sign an agreement with a passport at a notary.